Filming and production arrangements
Locations
We are surrounded by unpolluted forests filled with berries, Scandinavian maritime scenery and flat fields of grain and we have a vibrant sauna culture. During the winter season (from October to the end of April), the landscape in Kuusamo with its treeless hilltops is almost without exception covered with a thick layer of white snow. Along with the seasons of summer, autumn, winter and spring, the scenery in Northern Finland changes its character four times a year. The four clearly distinct seasons offer versatile opportunities for shootings in one and the same location throughout the year.
Northern Finland
We and our neighbouring areas are easy to reach by air or by public transport. Our internal road network is both extensive and in good condition. The City of Oulu is located halfway up Finland by the Northern Gulf of Bothnia (Bothnian Bay). Oulu is just the right size city and it provides easy access to other areas in Northern Finland.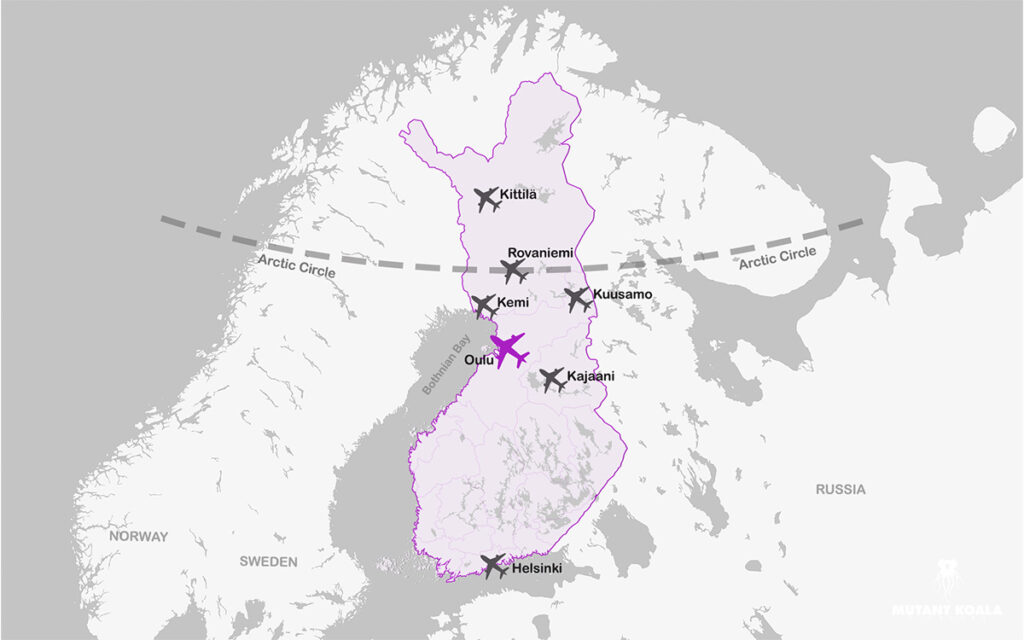 Camera crew
People in Northern Finland are known for their hard-working attitude. We have strong contacts with the local professionals who are not afraid of hard work and are happy to face any challenge. As we know what it is like to work in challenging natural circumstances, we can give you practical pieces of advice. For example, when you need to wear layered clothing or how to handle AV equipment in below-zero winter conditions. Most of the staff in our area speak fluent English.
Production incentive
You can get a 25 per cent cash rebate as compensation for the expenses of an international audio-visual production carried out in Finland. The costs in the production audio-visual works that are compensated for include work carried out in Finland, preproduction and post-production. The production company applying for the incentive can be Finnish or foreign. Read more